MIDSTATE CAMERA REPAIR is a multi-generational business founded in 1978 by John O. Fortin (pictured below) after retiring from 30 years in sales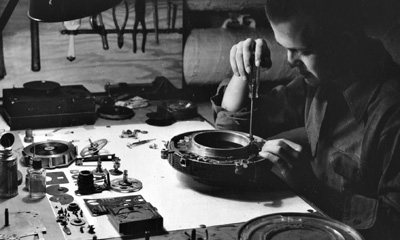 and service at United Camera Inc. His goal was to provide a specialized repair center for the most sophisticated cameras used by both professionals and amateurs. In 1984 he was joined by his 2 sons, Mark (pictured above) and Keith, and a long time family friend.

Today, Mark continues our exclusive business objective is to provide state of the art repair service for all major brand cameras. All work is performed on the premises by trained technicians. Each technician is a graduate of the National Camera Technical Training School, members of the Society
of Photo-Technologists and regularly attend formal schooling on the newest camera equipment available. We have built a long and impressive list of satisfied referral customers who have come to depend on us for all their repair and service needs on cameras .  The list includes The Providence Journal, Brown University, RI School of Design, , URI and many professional wedding and commercial photographers. We are current supporters of the Photographic Society of RI and Professional Photographers Association of RI.   Midstate Camera Repair is a family business that looks forward to providing everyone with the same caring attention to detail and concern for your specific repair and service requirements at a realistic price.